"The only certainty I have is to be in doubt". The title of a book-interview with humorist Pierre Desproges seems to perfectly transcribe the approach of certain organizations when anticipating their actions in 2023. The pandemic, the war in Ukraine, the economic recession that is looming in the horizon, the shortage of talent… So many concomitant elements that push companies to "prepare for the impact". And yet, the analyst firm Gartner does not want to disappoint its followers and has pulled out the crystal ball to identify the technological trends to follow next year.
Small survival manual for undecided CIOs
Gartner first assesses strategic trends that IT decision makers should follow. Anticipating questions from undecided CIOs wondering whether to save money, promote growth or transform their IS next year, the firm advises doing all three.
How ? By optimizing, increasing the size of the IS and innovating. The firm thus bases its strategic predictions on these three themes.
When it comes to optimization, Gartner believes there are three major trends to keep an eye on:
Immunization of digital systems ;
Applied observability ;
And AI trust, risk and security management (AI Trust, Risk and Security Management, or AI TRISM).
To immunize the IS against talent shortages, staff turnover or cyberattacks, the firm believes that it is necessary to look at site reliability engineering (SRE), Chaos Engineering, Self-Remediation, Observability, securing the software supply chain, and AI-augmented software testing. No surprise here: all these trends drive the ecosystem DevSecOps (or all three taken separately) for about three years.
"Gartner believes investing in these approaches to immunize IT systems will reduce downtime by up to 80 percent."


David GroombridgeVP, Analyst, Gartner

"Gartner believes investing in these approaches to immunize IT systems will reduce downtime by up to 80% and drive revenue growth," said David Groombridge, Vice President and Distinguished Analyst at Gartner .
As for applied observability, it is no more and no less the adaptation of IT supervision and optimization methods "to the whole of the company".
"Every decision a company makes generates data about it. Whatever the decision, by using the data and its context, by applying AI to it, it is possible to create a feedback loop to make decisions faster and more efficiently in the future", assures David Groombridge.
The analyst gives the example of Toward Klaveness which has combined meteorological, geospatial, operational data and data from the engines of its ships in order to produce dynamic dashboards. The engineers have thus identified inefficient uses of the engines that have enabled it to reduce maintenance, diesel and spare parts costs. Another application is the early detection of the increase in hospitalizations due to the Coronavirus. The analyst refers to the analysis of user water by the health authorities in different countries.
Without mastery of algorithms, these two trends cannot be democratized, warns the analyst. "Organizations claim that 41% of the AI ​​systems they use have already suffered incidents related to algorithms or a leak of personal data", advances David Groombridge.
To overcome this difficulty, the analyst presents the concept of AI TRISM, relating to the trust management, risk and safety in AI systems. This abbreviation refers to the techniques, methodologies and tools used to supervise artificial intelligence algorithms and models: explainability, the MLOpssecurity, transparency or the application of compliance rules.
"This reduces the risks, promotes the acceptance of AI systems and derives benefits from them", assures the analyst once again.
Vertical clouds, engineering platforms and wireless networks
As for the scaling up of the IS, Gartner is focusing on three key trends:
The vertical cloud offers ;
The engineering platforms ;
And contribution of wireless networks.
Gartner observes the emergence of vertical clouds, offering a combination of IaaS, PaaS and SaaS solutions aimed at "creating modular solutions specific to certain verticals" and therefore "improving agility and reducing the time-to-market of products or tools. The firm gives the example of Goldman Sachs and its partnership with AWS to offer a cloud dedicated to finance. For the time being, these offers bring together more or less specific bricks, but often unsuitable to the very specific needs of large groups who – already – juggle existing systems and their appendages in the cloud.
To meet this challenge, engineering platforms are part of the solution, according to Gartner. They should help developers accelerate project delivery by automating underlying architectures and providing access to reusable components, tools and self-service portals. However, there is no product on the market that unifies all of these functions, as the firm has already explained. It is therefore a new approach that calls for a new team to deploy and maintain such a platform. Adidas would have already taken this route.
According to Gartner, this increase in specific applications goes hand in hand with the extension of wireless networks to retrieve more data and distribute applications and content more widely. Depending on the type of devices and use cases, companies will be brought all the technologies at their disposal: WiFi, LTE (4G and 5G), LoRaWAN, BLE, Zigbee, Enocean, etc.
"Gartner predicts that by 2025, 60% of enterprises will be running more than five wireless networks simultaneously and that will require specific integrations, but that's not where the value lies," says David Groombridge.
The value would lie in technologies adjacent to network protocols, for example triangulation to improve the geolocation of assets, or even energy harvesting, an approach still little used in the IoT. Gartner nevertheless found the example of the Israeli retailer Shufersal, which uses Wiliot's sensors to geolocate and measure the temperature of fruits and vegetables shipped to its stores. Wiliot is developing BLE (Bluetooth Low Energy) chips capable of recovering the energy of the devices with which they connect.
It will still be necessary to wait for such a prophecy to come true. For now, companies, public authorities and equipment manufacturers are struggling to find common ground to deploy some of these networks, 5G in the lead.and associated use cases.
Towards the generalization of superapps and adaptive AI
But these are not the areas where companies will innovate in 2023, according to Gartner. The analyst firm sees the emergence of three trends:
The super-applications or superapps ;
L'Adaptive AI ;
And the metaverse.
These trends must "promote a change in economic model or increase the reputation" of those who embrace them, according to David Groombridge.
Superapps are already popular in Asia-Pacific. These are apps that bring together an ecosystem of partners with whom publishers share user data. This would make it possible to generate smaller applications, variations of a platform for different uses. These are not stores like Android Store or Apple Store, but systems promoting the creation of integrated services like AliPay in China (Alibaba) or PayPay in Japan (Softbank).
More visible in Europe, adaptive AI aims to solve the difficulties of existing machine learning systems which do not adapt to changing environments, which have limited training data, and which have difficulty in generalizing their learning.
"Adaptive AI feeds on real-time feedback to retrain models for learning and inference," says David Groombridge. In short, it is a question of bringing a form of continuous improvement to AI.
According to the analyst, the US Army is already using this technique to personalize the training of soldiers according to their abilities. "It speeds up the training of soldiers by 40%," exclaims the analyst. This could also serve for the optimization of self-driving cars.
Gartner breaks down the metaverse
Finally, the metaverse. Aware that this trend can cause hives among its customers, Gartner prefers to discuss the components supposed to animate a future metaverse.
Thus, avatars or "digital humans" would promote customer experience, brand influence and training. Tokens – clearly cryptocurrencies and NFTs – would offer new possibilities for financial exchanges and sales. Virtual spaces shared experiences and spatial computing would simplify collaboration or the organization of events.
"The key to riding this wave is to strategically invest in the metaverse components that will bring you value now."


David GroombridgeVP, Distinguished Analyst, Gartner

"The key to surfing this wave is to invest strategically in the components of the metaverse that will bring you value now", announces the VP at Gartner. The leader gives the example of partnership between Siemens and Ndivia to create an "industrial metaverse", a mix of analytics, digital twins and augmented reality, the same as Microsoft intends to promote.
There is a final trend this time inevitable and transversal: the application of ESG principles. "Sustainable technologies are key to reducing emissions and optimizing your operations," says David Groombridge.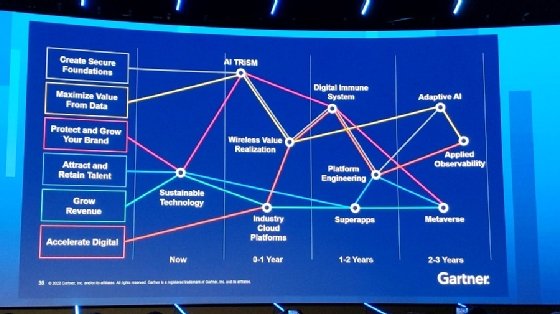 However, Gartner knows very well that companies will not be able to invest in all these trends at the same time. "Determine your business goals, then design your own path to value to determine where and when to invest," advises the analyst. Depending on the path chosen, companies could thus establish their priorities over the next three years.
We want to say thanks to the writer of this write-up for this awesome material

Gartner: strategic technologies to watch in 2023


You can view our social media profiles here and other pages on related topics here.https://www.ai-magazine.com/related-pages/