Apple announced the output ofiMovie 3.0, available from today, which makes it easier for iOS and iPadOS users to compile photos, movies and music into a home movie thanks to two new features. For those who don't know, iMovie is a popular app from Apple to quickly create movies and clips on Mac, iPhone and iPad with minimal hassle.
However, both Instagram and TikTok use AI (artificial intelligence) features that make it easier to create and share great video clips. For example, they can automatically fit music to video clips. Meanwhile, iMovie was lagging, with users having to line up their music and content manually. The new update aims to remedy this problem with the "Storyboards" and "Magic Movie" functions.
It's rolling out to devices running iOS 15.2 or later and iPadOS 15.2 or later. But Apple wouldn't say whether those features would also be available on the macOS version.
The Storyboards are one of two new features that let you choose from 20 templates to fit videos, photos, and audio tracks., and each placeholder describes the type of clip that should be in that section of the movie. This feature can be useful for content creators or for those who want to get familiar with video editing in general. The feature can help users frame their shots and tell a story through their video, then export it to another app.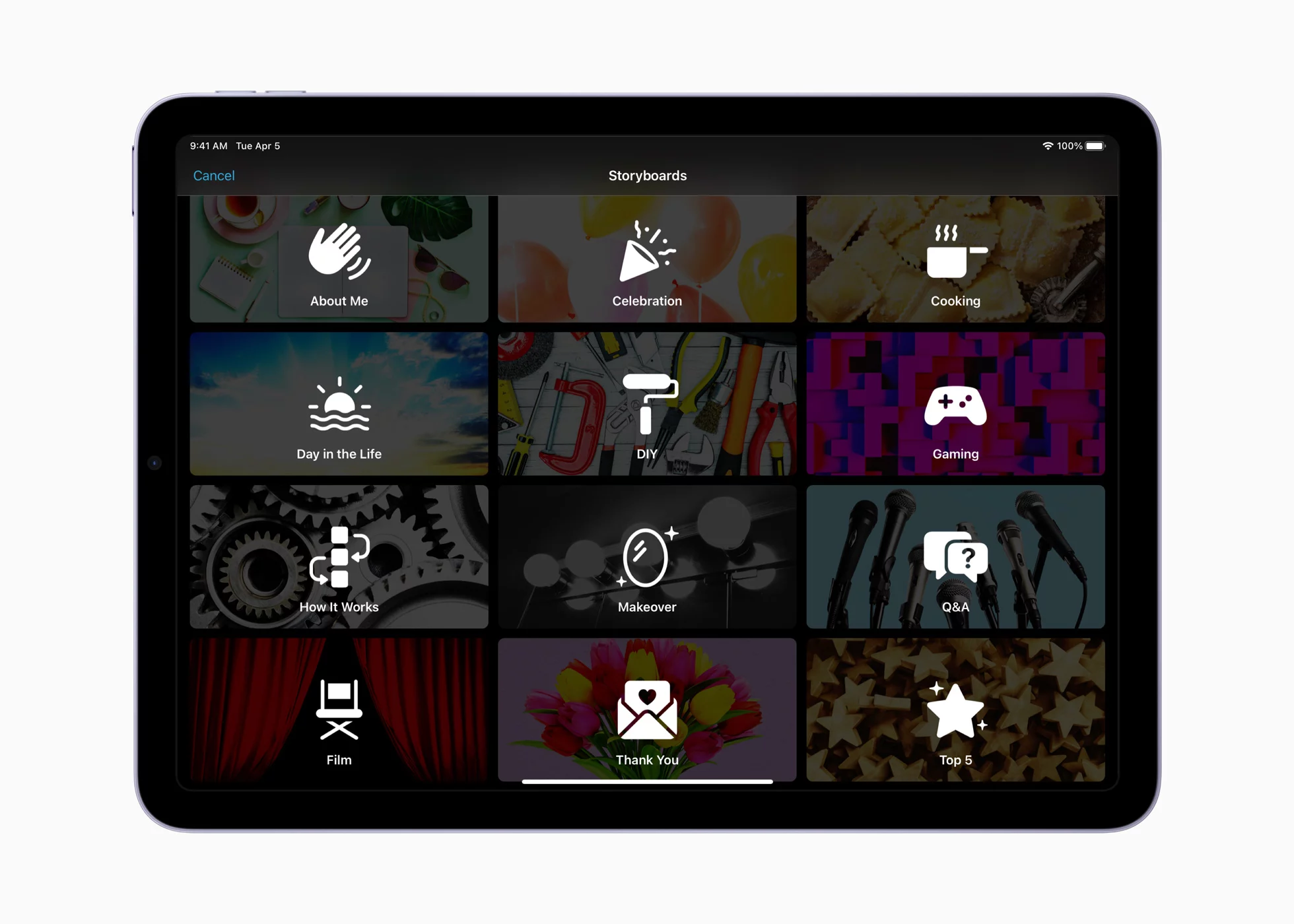 When editing a clip you've already inserted, you can have a voiceover, insert music, trim the clip, adjust volume, adjust speed, add titles, or delete the clip entirely. If you decide to change a template, the titles and transitions will adapt instead of disappearing and forcing you to start the project over.
An automatic generation of a film
In parallel, the Magic Movie function allows you to select an album of photos and videos, and compile them into a movie. You can rearrange and delete clips, and the feature will adapt keeping the project theme intact. This function will analyze the dialogues and movements of your clips and organize them according to the movie you have chosen. You'll also find helpful descriptions on where to add certain clips, whether for a close-up or something else to help the movie.
You can also choose a soundtrack, like a file from Garageband, Apple Music, or the Files app for example, and iMovie 3.0 will also adapt it to the video, like TikTok and Instagram do. It seeks to automate the way you can create a movie in half an hour, without going through many menus to achieve the same result.
Apple hasn't mentioned if these features are going to be incorporated into the Mac version of iMovie, but it did say that the reason they're being integrated into iMovie for iPhone and iPad versions starting today is due to the ease with which users can create and manage their media content on these devices.
We wish to thank the author of this write-up for this amazing content

iMovie on iOS and iPadOS finally enables instant movie creation


Check out our social media profiles as well as other pages related to it.https://www.ai-magazine.com/related-pages/