Lyon by MidJourney in the style of Gustav Klimt.
For fun, a Lyonnais had AI software generate images of the city in the style of renowned artists or known aesthetic styles. The result is stunning.
It is out of simple curiosity that this web developer, who presents himself on social networks under the pseudonym of Findhel, embarked on the exercise. He had no idea that the result would have such a success on Twitter, where the long thread he posted on September 17 received nearly 19,000 "likes": the developer reveals dozens of images representing the city of Gaul in the manner of more than 30 artists or styles, including Monet, Van Gogh, Dali, Guillermo Del Toro or Hidetaka Miyazaki… The latest, published this Wednesday morning, even offers us a vision of Lyon "like the caves of Lascaux".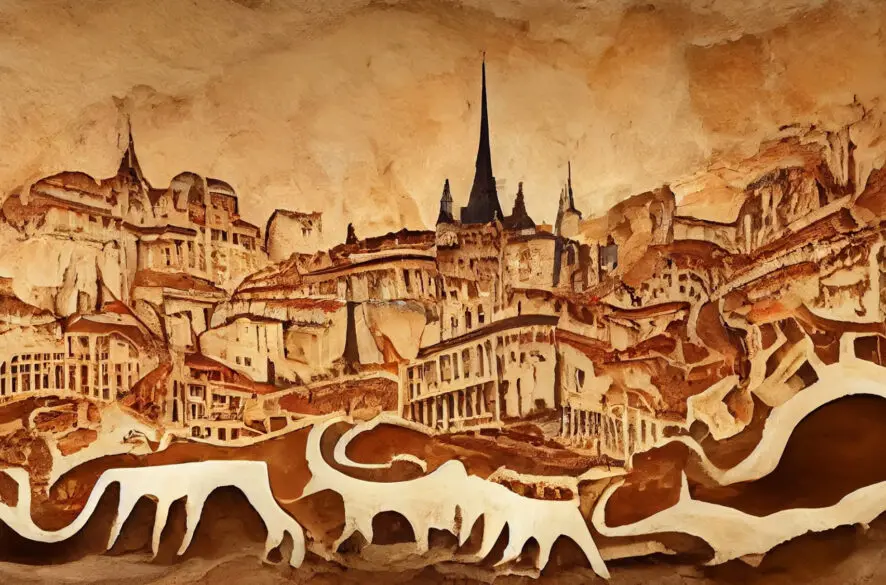 To create them, Findhel used MidJourney, an artificial intelligence system that turns text into images and has been buzzing since its launch in June. "I knew there was the possibility of generating images "in the style of" such an artist. I wondered if he would be able to do it in Lyon in the same way as in New York for example".
I had fun with Midjourney by asking him for the city of Lyon in different styles. And I think this deserves a thread:
Beksiński 1/8 pic.twitter.com/ZXtpx4alP0

— Findhel (@Findhel_) September 17, 2022
Concretely, the program is based on the method of prompt-engineering : Findhel enters in English a succession of keywords, of the type "Lyon in the style of Salvador Dali". "In general the software automatically adds "Fourvière"". MidJourney then draws from a database of photos and information, and reveals after about a minute "four low resolution images". "I usually choose two quite different ones which I ask the system to add detail and enlarge to high resolution".
A more beautiful than realistic result
If the result is undeniably beautiful, it is "far from perfect"says Findhel. "Often buildings are merged or the perspective is inconsistent. It also depends on the chosen style. Monet-like images are almost realistic, others like Beksiński's are not at all". Because it is to aim for aesthetics, and not realism, that MidJourney's AI was trained by its creators.
Findhel's thread generated many reactions and questions, even though "many did not understand that an artificial intelligence was behind.". The practice, which the developer intends to continue to explore, also raises certain "moral and ethical issues" he acknowledges. "This AI uses artist images without permission". Intellectual property is indeed a key issue in AI-generated art – and all the more so when it uses, as here, existing works of art for inspiration.


We would like to give thanks to the writer of this short article for this awesome material

These paintings of Lyon were created by an artificial intelligence – Lyon Capitale


Our social media profiles here , as well as other pages on related topics here.https://www.ai-magazine.com/related-pages/