Enhancing STEM Education Through Artificial Intelligence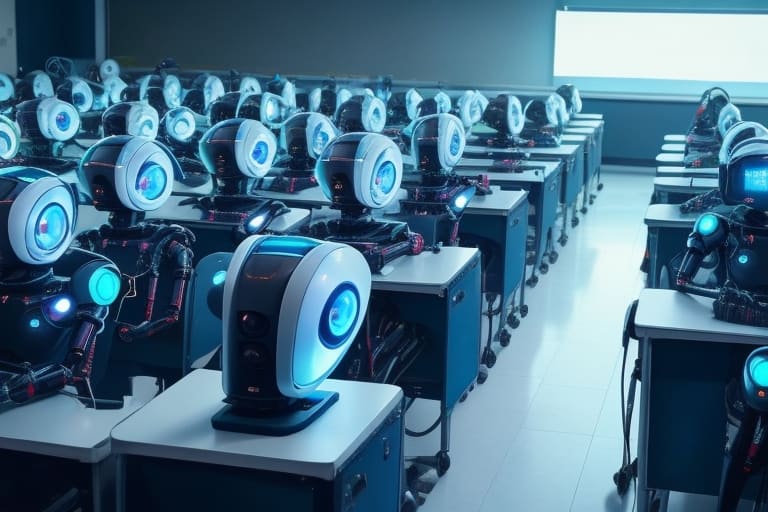 August 16, 2023

ai-magazine
In the ever-accelerating march of technological progress, few innovations have had as profound an impact on education as Artificial Intelligence (AI). The integration of AI into Science, Technology, Engineering, and Mathematics (STEM) education has opened new vistas of learning, redefining the boundaries of traditional teaching methods. By harnessing the power of data analysis, adaptive learning, virtual experimentation, and critical thinking stimulation, AI is revolutionizing the educational experience. The symbiotic relationship between AI and educators is ushering in an era where students are not merely passive recipients of knowledge, but active creators, collaborators, and problem solvers.
AI-Powered Curriculum Design
In the world of education, the challenge has always been to strike a balance between catering to individual learning needs and adhering to standardized curricula. AI emerges as a transformative solution by offering a dynamic curriculum design that adapts to the unique learning styles, paces, and strengths of each student. Through data-driven analysis, AI platforms can create tailored learning paths that evolve in real-time, optimizing the educational experience for every student.
AI-driven curriculum design begins with the collection and analysis of data from students' interactions with learning materials. This data helps identify individual learning preferences, such as whether a student excels in visual aids or thrives on hands-on experiences. AI can gauge the pace at which students grasp concepts, allowing educators to adjust the difficulty and complexity of content accordingly.
This personalized approach to curriculum design not only maximizes student engagement but also addresses their specific areas of challenge. AI identifies learning gaps and provides targeted interventions, ensuring that students receive the support they need precisely when they need it. By fostering an environment that caters to individual learning requirements, AI-powered curricula empower students to take ownership of their education, nurturing a sense of agency and enthusiasm for STEM subjects.
Personalized Learning
The journey from understanding to mastery is a pivotal aspect of STEM education. Сlassrooms have moved forward based on a fixed timeline, often leaving some students underwhelmed while others struggle to keep up. AI revolutionizes this approach through adaptive learning, ensuring that each student progresses based on their demonstrated proficiency.
AI-driven adaptive learning systems rely on continuous assessment and data analysis. These systems monitor a student's performance, identify areas of strength and weakness, and adjust the learning trajectory accordingly. This personalized approach allows students to solidify their understanding before moving on to more advanced topics, nurturing a sense of mastery over concepts.
AI unlocks the potential for curiosity-driven learning. By analyzing students' interests and learning histories, AI algorithms can recommend supplementary materials, projects, and resources aligned with their passions. This encourages students to explore subjects beyond the confines of the curriculum, fostering a lifelong love for learning. With AI as their guide, students can delve into areas that resonate with them, enriching their educational journey and preparing them for the diverse challenges of the STEM landscape.
Hands-On Experimentation in Virtual Environments
STEM education thrives on hands-on experimentation, which bridges the gap between theoretical concepts and practical applications. Traditional laboratory setups can be constrained by limited resources, time, and safety considerations. AI-powered virtual environments transcend these limitations, offering students a captivating platform for interactive experimentation.
Virtual labs powered by AI algorithms simulate complex experiments and phenomena, allowing students to engage in hands-on learning without the constraints of physical equipment. Whether exploring the intricacies of physics, chemistry, or biology, students can manipulate variables, conduct numerous trials, and visualize outcomes with unprecedented precision. These simulations enable students to grasp abstract concepts by providing tangible, interactive experiences that deepen their understanding.
AI further enhances the virtual experimentation experience through adaptive challenges. Based on a student's progress, AI can adjust the complexity of experiments, ensuring a consistent level of engagement. This approach allows students to gradually build their skills, move at their own pace, and develop a profound appreciation for the scientific method. AI-powered virtual experimentation not only bridges the gap between theory and practice but also instills a sense of curiosity, exploration, and confidence in the next generation of STEM professionals.
Cultivating Critical Thinking
In the digital age, where information is readily available at our fingertips, the focus of education has shifted from rote memorization to critical thinking and problem-solving. AI plays a pivotal role in cultivating these essential skills by encouraging students to think creatively, analyze data, and synthesize insights.
AI-powered tools prompt students to approach problems from various angles. By presenting challenges that demand innovative solutions, AI stimulates unconventional thinking and encourages students to explore uncharted territory. This fosters a mindset of resilience, adaptability, and creative problem-solving, skills essential in STEM disciplines.
AI's capacity to analyze large datasets empowers students with data-driven decision-making skills. AI-driven analytics tools enable students to navigate complex datasets, identify patterns, and draw meaningful conclusions. This hands-on experience prepares students for the data-rich environments of STEM careers, where deriving insights from extensive data sets is crucial.
Get regular updates on data science, artificial intelligence, machine